The Family Portrait
This is the most recent family portrait, taken in 2006 as a present to my parents. So why aren't Mum & Dad in the picture? Because Dad has Multiple Sclerosis and is confined to the bungalow and Mum has become his full time carer – where she finds the strength I'll never know.

So who's in the picture?
Well starting on the left and working clockwise there's:- My sister Angie, son Andy, nephew Wayne jnr, brother-in- law Wayne snr, son Mark and me, Phil. Then we have my wife Sue, my youngest sister Chris (married to Wayne snr, mother to Wayne jnr & Nathan), brother John & nephew Nathan.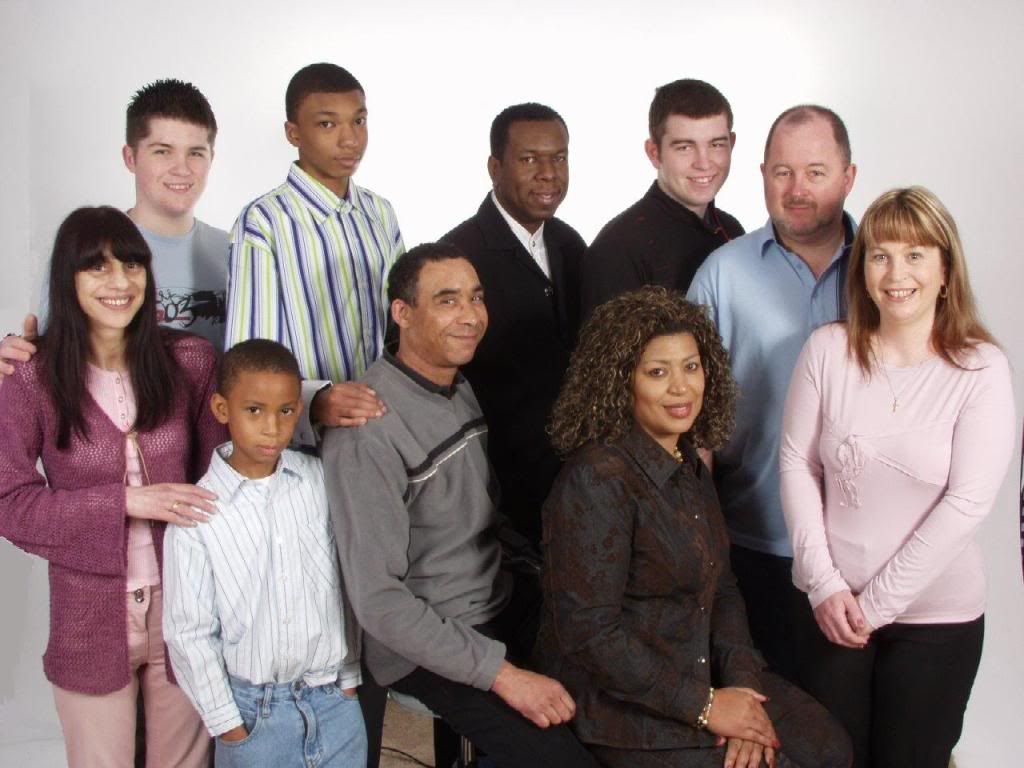 My generation and the next - Don't ask for explanations, just accept it! FACT! OK!
Phil
I'm Phil, born in Suffolk I grew up in villages near Colchester in Essex until my parents moved into Colchester in 1977. I was "educated" at Colchester Royal Grammar School - which was (and probably still is) a fine establishment, but, I hated virtually every minute I was there, something that was compounded by being "forced" to stay on and do A-levels by my parents. After failing to get into the RAF to do electronics and radar engineering because I was judged slightly colour blind, I joined the Midland Bank, which lasted all of 3 years. Via a somewhat circuitous route I now find myself working as a Lead Analyst at Capita IT Services working from home and my daily commute is just across the landing - which feels wierd after years of long distance commutes, but I'm settling into it.

I married Sue in March 1984 in Colchester, Essex. Andy was born in June 1987 and Mark in March 1989. I left a Payroll Manager job to join a software house which required the Family move to Derby and into a new house in July 1989 and there we have happily remained.

Aside from my family, motorbikes are my main interest outside of work. My first PTW was a moped given to me by my father and which I only ever rode on farmland until it was wrecked. I bought my first "road bike" from a fellow CRGS student Dave Burr just after my 17th birthday - a Lambretta GT125 which, despite it's unreliability, lasted me 2.5 years until I replaced it with a gleaming metalic gold Suzuki GT250 Ram Air which was the bike I passed my test on in July 1977, that was followed by a much loved Honda 400/4 F1 which was sold to finance our first house purchase. After the usual mortgage / kids break I returned to biking in March 2001 with the purchase of a Yamaha VX535 Virago - selected as I didn't want to become a "born again" accident statistic - and over ten years later I'm happy to report an accident free record since that date.

So that is me and this is us. We are a family of individuals so this site is divided into our own individual sections to reflect our interests. We all hope that somewhere hereabouts you will find something of interest.

Sue
Hi, I'm Sue. I was born in Colchester, Essex in 1963 and married Phil in 1984. I'm mother to Andy & Mark, two lovely lads! I am very proud of them both.

Also the Keeper of Cats - Charlie and Alfie. Before Charlie there was Sooty (small, black & white) and before Alfie there was Jasper is a tabby, born in the millenium year. Charlie and Alfie were both found locally over the internet, both have destinctive colours and markings and each is a seperate character.

I work full time as well as being The Cooper Family's Domestic Engineer (Phil helps doing virtually all the laundry) and Social Secretary, keeping tabs on what everybody is doing, when & where.

A few years ago Phil bought me a small glass house which I use to plant out and bring on bedding plants, which is something else I enjoy, along with my soaps - that'll be Corrie, Stenders, Casualty, etc...

Life is very challenging right now with the coalition government making large, sweeping cut-backs in local government spending as they try and sort out the mess Gordon Brown and the Labour Party left after the last election. However, I've just freshly passed the PRINCE2 Foundation certification, securing a promotion, managing the expansion of my team and a number of projects delivering cost savings and securing jobs as Derby City Council centralises common administrative functions. We have just been presented with the Ontext Global Star award for Best Practice - a fitting reward for the team acknowledging our achievements. However, it doesn't stop there and we have new challenges ahead.

Andy
Born in 1987 he achieved 11 GCSE passes including 3 A grades, with none below C grade. He joined the local BMW dealership (then owned by CD Bramall, now part of the Stratstone empire) on an official BMW sponsored apprenticeship scheme. This he has completed and he has also obtained his "Senior Technician" accreditation and he now works for Sytner BMW in Leicester.

After passing his driving test he bought a Vauxhall Corsa 1.2SXi which he replaced with a Honda Civic Type-R in late 2008. In March 2011 that was sold because of the new daily commute to Leicester which he does much more economically in a BMW 320D Tourer bought specifically for that role. He now drives a Seat Leon Cupra R. Andy is totally against the whole idea of this web site so you will find few details or references to him or his activities here. However, I am sure he won't mind me mentioning that Suzie and I are very proud of him first for qualifying as a BMW Senior Technician and how he has handled the move back into aprenticeship at Rolls Royce and then into a full time permanent role in their Maintenance Division.

Mark
Born in 1989 he played football from the age of 6 until focusing his attention on his education for his A level studies. For most of this time he was a goal keeper playing for a number of teams including:-
* Spondon Rovers
* Codnor Boys
* Chesapeake FC
* Roe Farm
* Mickleover All Stars
In his time he won numerous personal trophies as well as helping the teams he played for win League and Shield titles. Additionally he plays badminton (he represented his college) 5-a-side soccer, and since joining University, squash.

Mark is a competent web site builder having built his first pages at age 14 and he has gone on to build a number of websites for friends and small businesses. As the most experienced website builder in the family, his pages are the most advanced and incorporate features that are not included elsewhere on this, The Cooper Family website. To support his college's World Challenge trip to Malaysia in July 2007 he built www.Malaysia07.com to promote and track the fund raising efforts. Eventually, after the trip, the hosting server was hacked and the site was lost but with it's purpose fulfilled the fact it was never restored is just as shame but nothing more.

As a reward for his efforts Mark received three straight A grades in Maths, Further Maths & Physics & he was accepted into his first choice University (Nottingham), where he has just completed his studies - gaining a first class degree in Mathematics & Statisics so that he is now officially Mark Cooper BSc (Hons). In his spare time he has learnt how to play the acoustic guitar. As a first year student he lived in halls, running a Suzuki Burgman 400 scooter for commuting between home and univedersity. For his second year he commuted between home and university on the scooter, selling and replacing it with a Fiat Punto for his final year. This has turned out to be a real blessing as he was able to get back and forth despite the rough, cold and snowy weather we experienced during the winter of 2009/10. Upon securing his first job after graduating he traded the (now dying) Punto for a nice blue Mazda 3 which can be seen elsewhere on this site.


Charlie
Charlie the kitten - Enjoy pictures of the latest addition to the family......................Click here

Click here to return to the Main page