NEC Motorcycle & Scooter Show 2008
Saturday. £17 entrance fee (each) paid, Mark and I entered the lower hall where most of the manufacturer stands were laid out. Mark is (sort of) interested in replacing his 400 Suzuki Burgman scooter, so maxi scooters were the focus of our attention, but we gave most road bikes at least a quick once over. So what were our impressions….

Suzuki's current 400 is very tacky and plasticy, well appointed (in Executive specification) and the show bike had an MRA Vario touring screen (like that fitted to my Deauville) which was a point of interest -- manufacturer endorsement, recognising that the standard screen leave something to be desired.

The 650 Burgman (again Executive spec) met with Mark's approval, mainly due to the powered folding mirrors (very car like). However, Mark noted that (based on his experiences with the 400) it would be nice to see larger diameter wheels on the 650.

Honda's 600 Silver Wing wasn't flattered by the choice of black for the show bike. I saw it the year it was launched and it looked fabulous (then) in silver. Mark's comment wasn't too favourable, as he felt instantly at home and in his view all Honda did was copy the 400 Burgman and give it a bigger engine. Not enough to tempt him to buy one. While on the Honda stand we checked out the 1800 Goldwing and NT700 Deaville, and gave the DN-01 a quick look, but later on we saw an improved version by the Carols Nash stand. Honda also had a concept bike on the stand, but, we just couldn't see the point so judge for yourselves...

Honda concept bike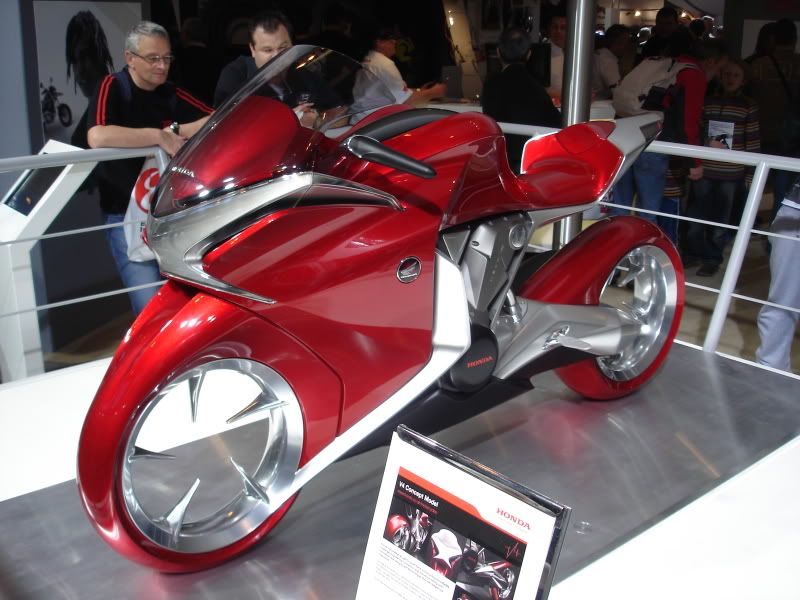 Honda DN-01 trike - doing what it's best at, posing



Yamaha's Majesty got the thumbs down for the same reason as the Silverwing, but the bigger T-Max got the thumbs up and when the time comes, will be subject to a road test evaluation. But on the day, at the show, it passed inspection.

As for the other bikes on show? Well we ignored off-road bikes and pocket rockets as both are totally and irrelevant in today's Britain (off roaders offend and the wrist down, bum up stance should be reserved for either the bedroom or the race track). The spin-offs from the off-roaders, the soft roaders and would be adventurers steeds like the BMW 1200 GS were interesting. There was a Charlie Boorman's Bikes stand, without any sign of the man himself. Nick Sanders was there (with current girlfriend) promoting his latest book Parallel World and the DVD.

Charlie Boorman's BMW R1200GS Adventurer



Kawasaki GTR1400 is lovely, not much bigger (physically) than the Deauville and goes like…. They had one kitted out in Police spec, on which I noticed some really nice "crash" bars, emulating the Deauville wings. Talking of which, I heard several positive comments on the Deauville on Honda's stand – seems like people are wising up to the bike for real world riding. Mark sat on a couple of Kawa cruisers while we were on their stand, he couldn't believe that people actually ride them – so heavy.

Mark sat on a Kawasaki cruiser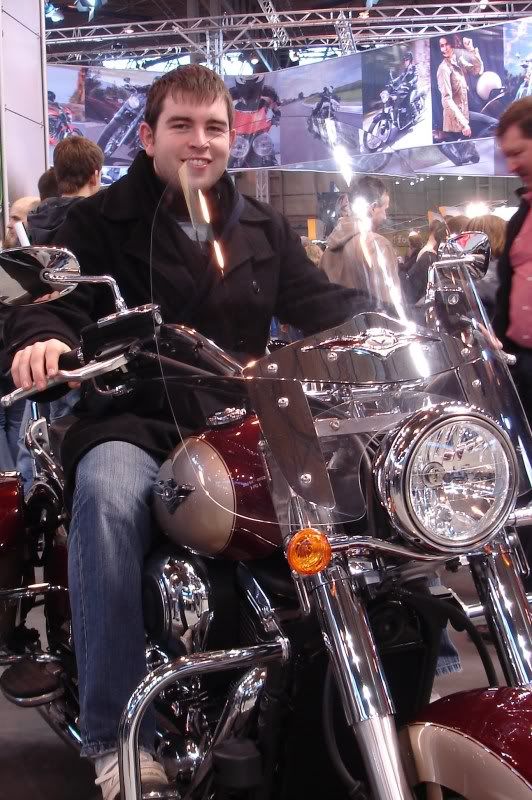 So what else was there to see? Ducati were there ( enough said, they leave me cold). Liked the Aprilia/Cagiva/Benelli stand, nice to see them there, but only with their big bikes. What about all their scooters? Don't they want to sell any in the UK? Triumph and Victory stands were popular but getting on the Harley stand was nigh on impossible at times.

Phil sat on a Triumph Bonnie





A Victory full dresser cruiser tourer





A couple of shots of the Harley V-Rod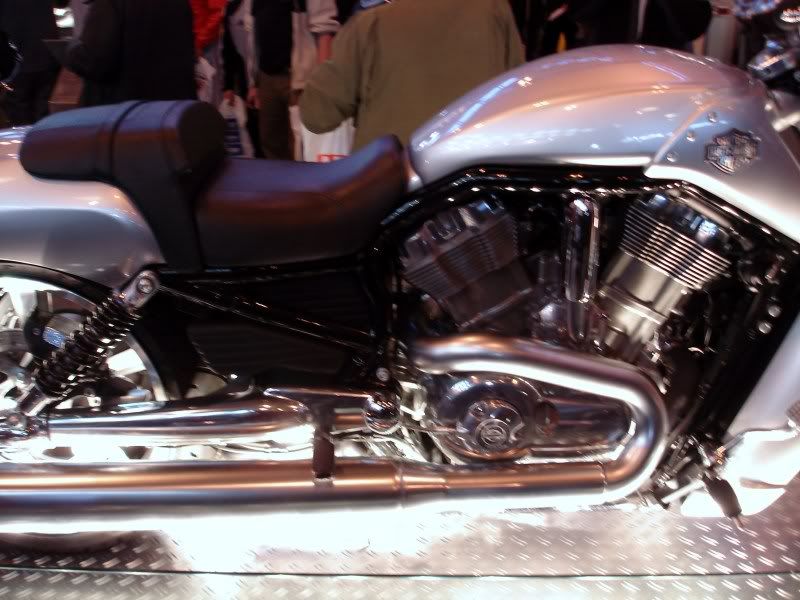 Then there was the upstairs hall(s) filled with accessory and gear sellers trying to shift old season stock in large numbers at low prices. More like a village jumble sale than a national bike show. Don't get me wrong, I've bought at the show other years and it's no different to what it usually is, but… perhaps it was just because the place was heaving with people all wanting to bag a bargain.



Some obligatory shots of a couple of Harley customs
...... these were the ones we liked on the day....




Plus this tricked up Yamaha V-Max on Britain's got Biking Talent



So in summary. We got there at about 10:15, ate a packed lunch that we'd taken with us and were on our way home by 15:45. I've never stayed at the show for so short a visit. It was just DULL and left us both feeling cold. Tacky plastic scooters. Race track refugees in abundance (just as sales take a dive in the UK) and not enough "real world" and "adventure" motorbikes (which are selling like hot cakes). The British motorcycle industry died because the manufacturers stuck their head in the sand. Looks like it could happen all over again, only this time it will be China and Korea that end up with the spoils as they produce affordable machines that can be ridden and not cost a fortune to buy or need a mortgage at service time.

The Batman bike



A nice clean 1800 Goldwing trike on the Goldwing Owners Club stand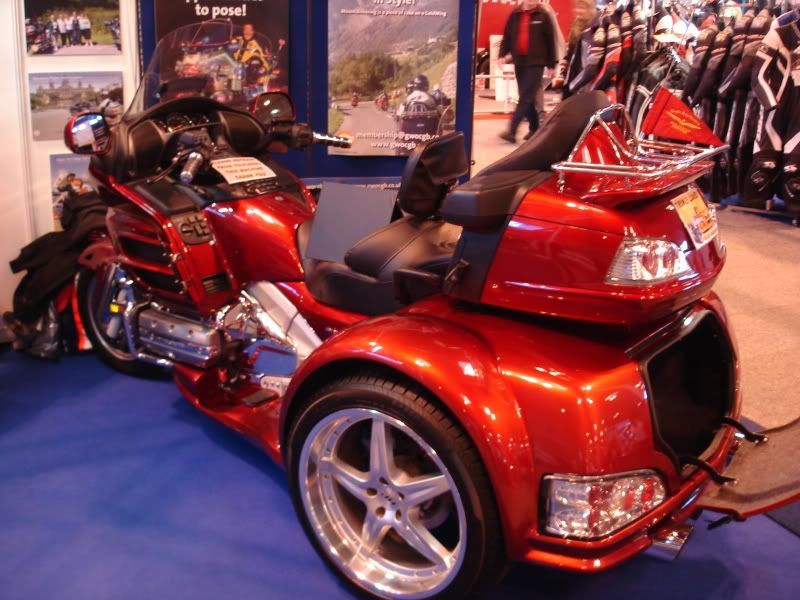 The show is moving to London. I just hope the organisers have a better idea of what the UK motorcycling scene is doing. It's changing and Birmingham totally ignored that fact and deserves to die as a result. I certainly won't be going to any NEC motorbike show in the future.
Back to my Motorbikes page Click here